Interesting Facts About Electricians in Maryland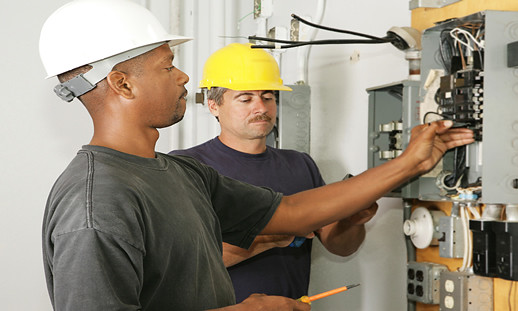 Electricians maintain electrical systems for residential homes and businesses. Most electricians specialize in doing work in construction or maintenance. But anymore more and more people are doing both types of work. Electricians test, install and maintain electrical systems for many purposes. Such as climate control, communications and security. Electricians also do work in business and industry.
Electricians have to follow the proper building codes when installing electrical systems.
Within the next few years, thousands of electrician jobs will be available to many people because this type of occupation is so important in construction with homes and buildings. It is a very needed profession all over. Electricians sometimes learn their trade through on the job training and also through formal training such as apprenticeship programs. Some people start out by going to vocational schools when they are young. And others get special training through other places. Some electricians are self employed and others work for sub contractors.
Electricians do different types of work. Some of these types of work are wiring new houses and buildings. They also wire older buildings and homes. Electricians do maintenance around homes and businesses inspecting electrical systems and fixing problems that they may encounter. Electricians use a variety of tools to do their work. They use wire cutters, screwdrivers, knives, pliers, and hack saws just to mention a few. They also use a variety of power and testing tools while doing their work.
Electricians have to be good at reading blueprints, planning and doing projects, using tools and being able to see and know the different colors of wires. Electricians can do many jobs to keep your home safe.
The type of person that should work as a electrician are people that can work under strenuous situations. People that are good with using their hands to work, people that have very good hand eye coordination and also people that will work under any condition. A electrician sometimes will have to work under dirty situations and also hot and cold temperatures. Electricians also must be physically fit to get in and out of tight spots. Electricians normally have a similar pattern to do their work. They study over their blueprints. They install wiring and do preventive maintenance. They perform safety evaluations and locate defects and problems in electrical systems.
Electricians need to wear the right clothing while doing their job. They should dress in appropriate clothing that is tight so that is does not get caught up on anything when they have to work in tight surroundings. They should always dress for the weather.
Sometimes electricians have to work in very cold and hot temperatures. They should always dress properly for the weather to be comfortable while doing their job. It is important for an electrician to always wear good work boots. These work boots should have good traction so that there is no slipping or falling on the job. Sometimes an electrician has to climb and walk on wet surfaces. Wearing rubber boots can keep them from slipping and sliding around on wet surfaces where they have to walk.
CALL BUCKLER ELECTRIC WHEN YOU NEED A MASTER ELECTRICIAN IN MARYLAND
AFTER READING THIS ARTICLE OTHERS READ:
WHAT SETS A MASTER ELECTRICIAN APART
Related Tags:
think green, travel, green cities, eco friendly areas, environmentally friendly, Charles County, St. Mary's County, Calvert County, Prince Georges County, Anne Arundel County, Waldorf, MD, Maryland , La Plata, Prince Frederick, Leonardtown, Lexington Park, 20602, York heat pump, York, WaterFurnace, Water Furnace, Geothermal, Eco-friendly heating, heating and air conditioning